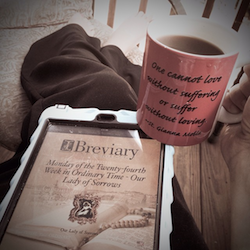 Today the Catholic Church honors the Blessed Virgin Mary under her title of Our Lady of Sorrows. Today also happens to be my birthday, so this feast has always kind of been a bit of a personal one for me.
Our Lady was so intimately linked with the redemptive work of her Son that she shared in His sufferings here on earth (Lk. 2:35) while standing by Him on the cross (Jn. 19:25). Besides our Lord, Mary is the greatest example of perseverance in suffering and is a constant source of strength and inspiration for me in my own sufferings.
This feast of our sorrowful Mother, who is also now the Queen of Heaven, is a great source of hope as well — a reminder of the reward of those who suffer for the sake of Christ:
If we have died with him we shall also live with him; if we persevere we shall also reign with him. -2 Timothy 2:11-12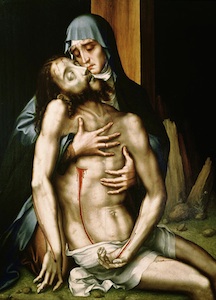 Finally, Our Sorrowful Mother teaches us that it's okay to be sad and mourn the loss of loved ones that are dear to us. Sorrow is not a lack of faith or trust in God. Christ, himself, expressed sorrow many times in the Gospels — even openly wept at the death of his good friend Lazarus (Jn 11:35).
The Lord is near to the brokenhearted, and saves the crushed in spirit. -Psalm 34:18
Prayer to Mary, Mother of Sorrows, by St. Bonaventure:
O most holy Virgin, Mother of our Lord Jesus Christ: by the overwhelming grief you experienced when you witnessed the martyrdom, the crucifixion, and death of your divine Son, look upon me with eyes of compassion, and awaken in my heart a tender commiseration for those sufferings, as well as a sincere detestation of my sins, in order that being disengaged from all undue affection for the passing joys of this earth, I may sigh after the eternal Jerusalem, and that henceforward all my thoughts and all my actions may be directed towards this one most desirable object.
Honor, glory, and love to our divine Lord Jesus, and to the holy and immaculate Mother of God. Amen.