Mary Evelyn at What Do You Do Dear? recalls what it was like when a little girl walked up to her son, who has spina bifida and is in a wheelchair, at church one day: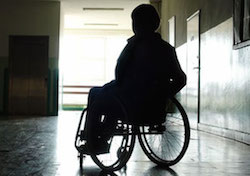 And then, without taking her eyes from his face, she said "I feel sorry for him."

I felt it more than I heard it. Deep in my stomach, in that place right below my breastbone. The place where I keep all my fears and my sadness. I felt it like a kick in the ribs.

Children ask all sorts of question about my son.

Why is he in that? Why can't he walk? What's wrong with him? Will he need that thing forever?

But questions are easy. For children, questions have answers.

"I feel sorry for him" is not a question. It is a statement of fact. A revelation. A public disclosure of something I know to be true. Although I fight against it and try to believe otherwise, I know there are many many people who feel the same. Many people who see my son, smiling and spinning and exploring his world, and they feel sorry. They feel sadness. But adults know how to filter. We know what not to say. We know to bottle up. This little girl was a leak in the system.

A system that tells her my son's wheelchair is "very sad."

A system that tells her he is a "poor thing."

A system that uses words like confined to, suffers from, and bound.

A system that prefers to see people like my son as victims, as recipients of charity, as less-fortunates waiting to be healed, rather than seeing them as neighbors, colleagues, teachers, and friends.

A system that tells her my son smiles "in spite of" rather than simply because he too is a child and has access to all the same earthly wonders that she does.

Wonders like fireflies, and candlelight, and going fast, and little girls in gauzy white dresses.
It's true.
In the past nearly 15 years I've found that often the hardest part about living with a disability is not coming to terms with what I can't do, but dealing with the perception that I am more helpless/miserable than I really am.
Despite the many wonderful advances we've made in protecting the rights of people with disabilities and including them in society, it seems we've yet to remedy the view of the general public that life with a disability is less enjoyable or fulfilling.
But there is hope. Read the rest of Mary's post for a beautiful example of a stranger who gets it right!