It only took two weeks, but I finally edited and uploaded the latest episode of BioTalk with the lovely and smart Rebecca Taylor.

Transhumanist ideas are often spread in notable science/tech journals, magazines and even some conferences. And today's rapidly-progressing technological world is making their goals more and more plausible.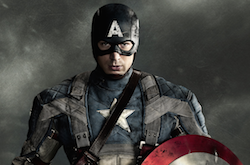 However, as Rebecca put it recently, "To grease the wheels of the transhumanist technological utopia it will take getting a generation on board with radically changing the nature of humanity."
That's where the world of popular entertainment comes in.
In this episode of BioTalk we discuss transhumanist images in some recent movies and television shows.
What we see is a mixed bag. Some seem to take the subject more seriously, showing the negative consequences of trying to enhance the human race beyond our nature. For others, the radical altering of an otherwise healthy human body is not only largely unquestioned, it's sometimes portrayed as an act of patriotism.
However its portrayed, for good or for ill, we should use these forms of entertainment as an opportunity to have a serious conversation about our transhumanist future. Especially now such a future is not as far fetched as we once thought it was.
This has been a recurring theme in Rebecca's writing lately. A few examples:
TV Show Intelligence: Patriotic Transhumanist Propaganda
Transhumanist Children's Book Says "Death is Enemy of Us All"
Why I am not a fan of Captain America
New Disney Show Pushing Transhumanism
E. Christian Brugger on Transhumanism and Captain America