)
This is a great piece from CBS on comedian Jim Gaffigan about his family life. At the end of the interview Anthony Mason asks Gaffigan if he's "done" having kids. To which he responds that, because he's Catholic and his wife is a "shiite" Catholic, "there is no goalie" and he's, "not opposed to it."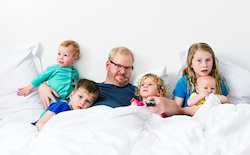 "I know the positives that I can get from each of my children," he said. Adding, jokingly, that he also wants to create his own nationality: a country called "Gaffghanistan."
I love Gaffigan's brutal honesty when talking about how marriage and fatherhood helped make him a better man. In the CBS interview, he admits to being a "loner" before meeting and marrying "a woman who gets pregnant looking at babies."
In his book, Dad is Fat, Gaffigan reveals that "Getting married and becoming the father of young children has taught me that I am a narcissist…I lived my life as a single man, and even for a few years into parenthood, just looking out for number one." As a result, he says, "My perceived needs were all-important." When it came to his career, relationship, or taking the last piece of pizza, "I was only thinking about myself. And, of course, the pizza."
But, he found that marriage and children change you. Your spouse and kids draw you out of yourself and put your own wants and needs behind those of your family.
Why have more children?
"Well, why not? I guess the reasons against having more children always seem uninspiring and superficial. What exactly am I missing out on? Money? A few more hours of sleep? A more peaceful meal? More hair? These are nothing compared to what I get from these five monsters who rule my life. I believe each of my five children has made me a better man. So I figure I only need another thirty-four kids to be a pretty decent guy. Each one of them has been a pump of light into my shriveled black heart. I would trade money, sleep, or hair for a smile from one of my children in a heartbeat. Well, it depends on how much hair."
Gaffigan's "revalation reminds me of these words from Gaudium et Spes: "[M]an, who is the only creature on earth which God willed for itself, cannot fully find himself except through a sincere gift of himself."
We may have each been made for our own sake, but we were not made to keep to ourselves and worry about our own wants and needs. We were created for companionship…and love. "Precisely that love in which the human person becomes a gift and — through this gift — fulfills the very meaning of his existence" (TOB 15:1).